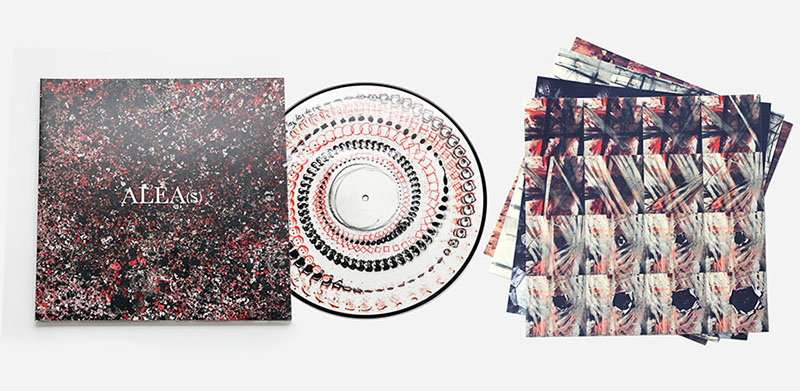 ALEA(s) is delighted to present its first EP at the crossroads of several influences with a singular aesthetic definitely dark, intense and syncopated.

This first EP of the band is the synthesis of the sensibilities of the collective and the logical extension of their live performances of ALEA(s).
Beyond the music, drawing and animation find their place there with neat artwork (and a limited series of prints) and a vinyl which includes hundreds of drawings forming a mini animation movie loop if the disc is played under a stroboscopic light.

Go on bandcamp to find some more !
aleas.bandcamp.com
Distributed by the yummy Crevette Records
ALEA(s) is an audiovisual collective based in Brussels joining the forces of illustrator FSTN, musician and synth manufacturer Shakmat and motion graphic designer Boris Wilmot.

Born from the will to offer a unique live experience, ALEA(s) delivers boiling, improvised performances mixing live drawing, video animation and electronic music.

Surrounded by their audience, the three members are busy creating their show, without any safety net. While the complex, loaded electronic music fills the room, the illustrator's physical implication in his drawings and the hypnotic animations projected onto the big screen unite to finish this well-rounded show.

ALEA(s) performances are often described as immersive, intense and crafted.
ALEA(s) est un collectif audiovisuel basé à Bruxelles, qui rassemble les talents de l'illustrateur FSTN, du musicien et facteur de synthétiseur Shakmat, et du motion designer Boris Wilmot.

Né de l'envie de proposer une expérience unique et vivante, ALEA(s) délivre des performances improvisées bouillonnantes qui mêlent dessin, animation vidéo et musique électronique.

Installés au milieu de leur audience, les trois membres s'activent pour créer leur oeuvre, sans filet. Le public observe toutes les étapes de cette création : de l'implication physique de l'illustrateur dans ses dessins, jusqu'au résultat animé hypnotique et incisif projeté en grand, qui enfonce la brêche créée par une musique complexe et chargée.

Les performances d'ALEA(s) sont souvent décrites comme immersives, brutes et intenses.